atreyu_tiger

Online

PWEASE (ーεー) ん〜〜



10.06.2012, 12:20
After a long delay, here are the Spanish subtitles of the Don't Laugh in High School Batsu Game, originally broadcasted in 2005. The subtitles are color coded and the variety of language is International/Neutral Spanish.
________________________________________________________________________
Muchísimas disculpas por tan largo retraso. Aquí tienen los subtítulos de No te rías en el instituto, emitido originalmente en el año 2005.
Participan todos los componentes de
Gaki no tsukai
a excepción de Hamada, que ejerce de maestro de ceremonias. Se trata del primer juego de castigo / batsu game temático. En esta ocasión los chicos deberán revivir sus días de estudiantes, con profesores, situaciones y trampas de lo más inesperadas.
Sin duda es uno de los juegos más apreciados por los fans, ya que en él podemos ver la primera aparición de Jimmy Onishi, así como otras escenas para el recuerdo.
El archivo de vídeo con el que se corresponden los subtítulos es este:
viewtopic.php?f=9&t=42
Junto a los subtítulos hay un archivo de aclaraciones de la traducción así como de temas culturales que espero les sirva de ayuda. Esta vez es más largo que los anteriores, y viene ilustrado con imágenes.
Para sus comentarios, intercambiar opiniones, contar qué tal les ha parecido, etcétera les animo a que escriban.
¡Hasta la próxima!
http://www.4shared.com/zip/3-hZhjAF/Instituto.html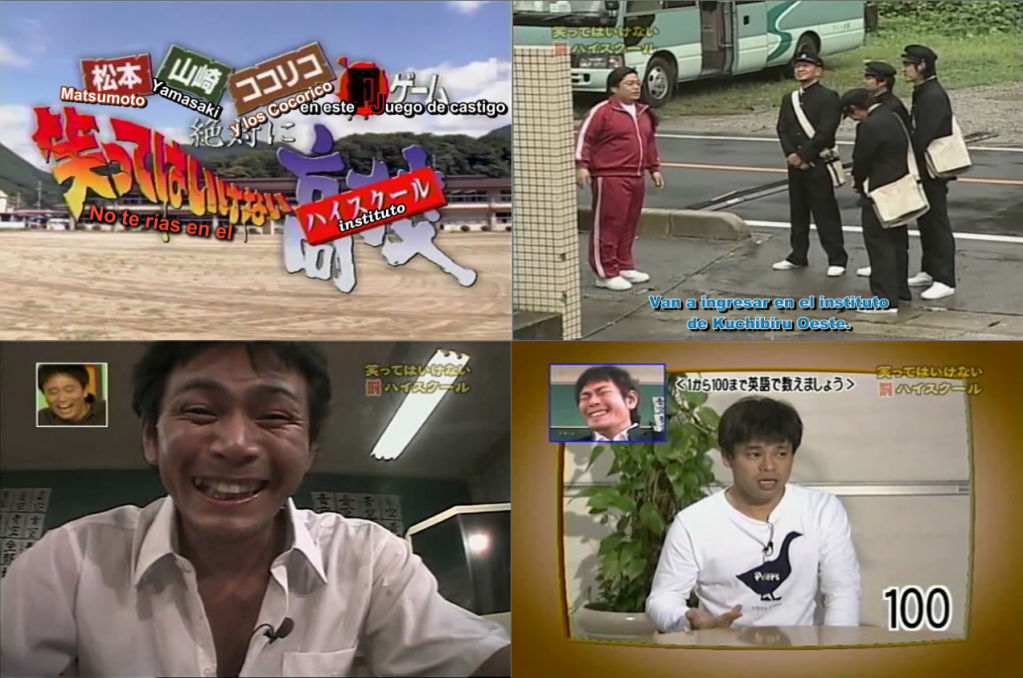 Si pueden ayudarme a subir el archivo a otros gestores de descarga a modo de
mirrors
, se lo agradecería mucho